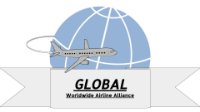 About This Alliance
Global Alliance- the alliance that unites the forums and the (game) world. Join today. "Linking the globe together, one flight at a time."
What's new in this alliance

I believe that some of our members may have joined the wrong alliance in B IV, as it currently only has one member- me. I am also seeing that there is a similarly-named alliance that has some of our members- which is fine, but if you were attempting to join the one corresponding with this alliance on the forums, then you might have joined the wrong one.

ATTENTION GLOBAL ALLIANCE! We now have an alliance in world B IV! Join today and support our fellow alliance members!